For Women

We have several opportunities for women to share fellowship, partake in bible study, and help in ministry work.
PRESBYTERIAN WOMEN
As a female member of the congregation, all women are an automatic member of Presbyterian Women (PW). This active group of women work year long to support ministries to which they have pledged funds, to help with the mission of the church, and to further the discipleship of women through Circles. PW meets quarterly for a general membership meeting. Stop by to see what is happening next.
Check the
calendar
for the next meeting date.
CIRCLES
Circles are smaller groups within the PW association of women. As explained by PC(USA):
"A Circle is:
Where faith is nurtured and growth takes place through worship, study, friendship and outreach.

Where women are challenged to stretch beyond their limits.

Where women move beyond the safe places of life and reach out to others.

Where Christian leadership is born, nurtured and sent forth into ministry."
Stop by one of our Circle meetings and share in bible study and fellowship. See the
PW
page or the
calendar
for meeting dates and times.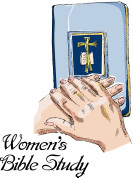 A weekly Bible study group for women takes place each Wednesday in the Westminster Room beginning at 9:30a.m. All women of the community are invited. To find out more about this group - contact the
church office
or Barb Kenn at 906/248-3106.
---
LADIES COFFEE HOUR

As Presbyterians, one of the directives through the Great Ends of the Church in The Book of Order (G.-1.0200) is "The shelter, nurture, and spiritual fellowship of the children of God."

To work toward this, the ladies of our church host a coffee hour the third Tuesday of each month. Please join them in the Social Hall at 9:30a.m.